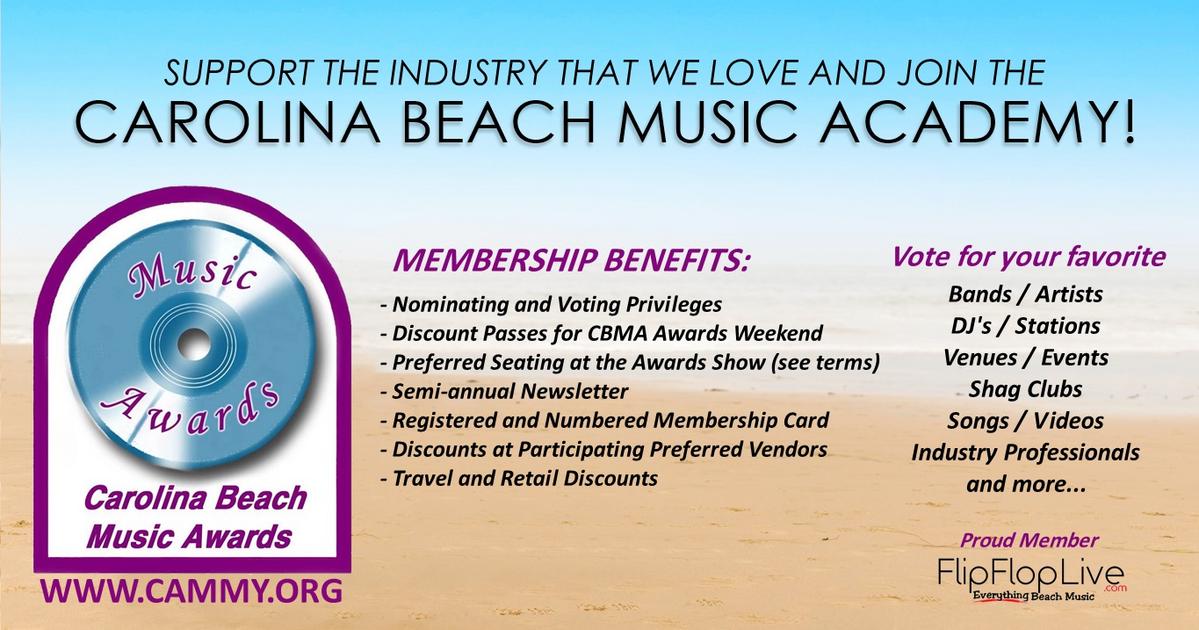 Have you joined or renewed your membership with the Carolina Beach Music Academy? Everyone within the industry contributes and supports the music and lifestyle that we love and they do so in many different ways. By joining the CBMA, it enables you to help recognize the groups, individuals and professionals during the annual awards weekend in N. Myrtle Beach while also providing you with discount Cammy weekend passes, discounts at select vendors, discount awards show tickets and more.

You can view the new membership levels by visiting the CBMA Official Website which includes: Industry Members, Academy Members and Associate Members. Please note that "All Industry professionals or organizations must be a member of the academy to be nominated for an award or to participate in the Awards
Weekend".

Let's make 2022 the biggest year yet by inviting a few friends and/or family members to join the Beach Music family and show them why we love it the way we do. Sign up on the CBMA website today and if you have any questions, the academy can be reached by calling: (910) 281-4400 Be sure to download the Flip Flop Live mobile app to receive deadline updates etc for nominations and voting and once you join watch for your membership card and newsletters.

CBMA Logo Property of the Carolina Beach Music Academy.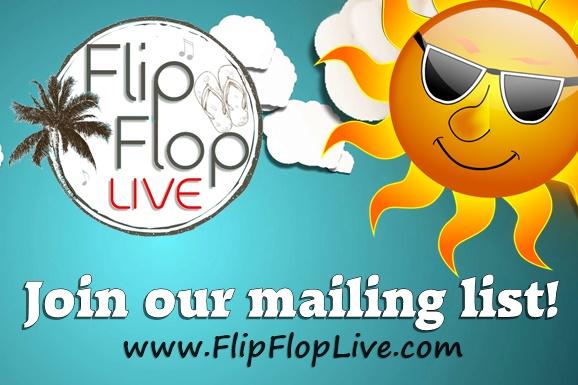 Distributed to our mailing list on Saturday, April 25, 2020.
Join our mailing list today to receive the updates first!

Beach Music Loses Another Legend
DJ Steve Hardy
This past year has been filled with so much news surrounding legendary Beach Music contributor and DJ, Steve Hardy. From the announcement of his retirement, to the release of the "Party for a Lifetime" CD, his final farewell during his "Thanks for Listening Christmas Party" and now to the sad news of his passing. The Hardy family members have been through a lot but the love shown throughout various areas of the industry for Steve and the family surely is a blessing. We will continue to keep them in our prayers as they move forward with the arrangements and final preparations.
COVID-19
We hope you and your family are staying safe during the recent health issues facing our country and the rest of the world. We know everyone is ready to get back to the clubs and events and we're praying for the bands, artists and venues who are feeling the biggest effect of the shutdown. We're so thankful for the connections we still have with everyone because of technology and we're at least able to see each other online.
CBMA NEWS
2020 Hall of Fame Inductees
Did you catch the 2020 Carolina Beach Music Hall of Fame Inductee show on 94.9FM The Surf with Mike Worley and Peter Carpenter? Congratulations to all of the inductees and we can't wait to see you in November in N. Myrtle Beach.
Inductees
Wilson Howard.

Pat Christie

Steve Davis

Eddie Cogle

Johnny B Barkley

Fred Foxx

Neal "Soul Dog" Furr

Bob Collins and the Fabulous 5

Loafers Beach Club in Raleigh, NC

WNCT 107.9FM in Greenville, NC

Jim Quick

Reminder to Renew your CBMA membership
Let's make a big push for new and renewing CBMA members. No matter your role in the industry whether you're a fan, music lover, band, DJ, artist, venue or shag club, invite your family and friends to join. Single memberships start at only $25.00 for the year and couples start at $40.00. We have all of the information for you on our website: www.flipfloplive.com/cbma In order for our industry to grow and to increase votes for your favorites during the awards show it takes members to make it count. Every vote counts!

UPCOMING DATES TO REMEMBER
July 15, 2020 – Deadline to join the CBMA and be eligible to nominate
September 15, 2020 – Deadline to join the CBMA and be eligible to vote
November 12-15, 2020 CBMA Weekend and Award Show


BAND / ARTIST NEWS
Blackwater Band / Too Much Sylvia
The Boys are Back in Town
Back in March, Green dot records released "The Boys are Back in Town featuring Blackwater and Too Much Sylvia. Expect a forthcoming compilation CD, including "THE BOYS ARE BACK IN TOWN" and other
new music from Carolina artists very soon!
Hip Pocket
Band Member Lineup Changes
Through a Facebook post on March 14, 2020, the band announced that Jaron Bradley "Breeze" was no longer with the band. No other information was offered at that time and we haven't been notified of any further updates to their lineup. We wish the band and Breeze nothing but the best going forward.
Bands/Artists Perform Live Online
Several bands and artists are using the internet and social media to continue to entertain their fans. We've shared several videos on our website from these sessions and we will continue to add them as we receive the submissions. This is the dedication and creativity that we love in our industry. So many refuse to take a break and they keep the music playing and we're loving it and so are many others.
Swingin' into a New Website
The Swingin' Medallions announced April 17, 2020 that they've launched their brand new website and they also provided updates to their upcoming shows. We have the video posted on our website news feed if you have a few minutes and would like to watch.
Rick, Lesa and Mike Debut New Music
On April 20th, Rick Strickland, Lesa Hudson and Mike Taylor announced the release of a new song "A Little More Love". It was released on April 19th during a worldwide Facebook Live event where Rick and Lesa were joined via webcam by Mike as they discussed the details and allowed viewers the chance to preview the new track. We have more details and the video posted on our website news feed.
Randy Clay Band Release New Song
The Randy Clay Band's new song "Tip the Hat" debuted today, (Saturday) on Eric Bowman's show on WDZD 99.1FM The Wave. On their announcement they state; "Get ready line dancers! This is one you'll love". We have the full store along with links to Eric's live stream and the band's website. Be sure to tune in Saturday to hear the new release.


INDUSTRY NEWS

Beach Music and Covid-19
Let's all support the industry during this period…
On March 17, 2020, we posted on our website an article on what we felt everyone could do to help the industry continue to thrive during the pandemic. You can read the full article on our website newsfeed but some of the ideas were to call your favorite DJs and while we're at home support their shows. We suggested how you can interact with the bands and artists online helping boost their exposure as well as buying merchandise to help support them financially. We also included shag club, venue and industry ideas. If you have a few minutes, you can the entire article that goes more in-depth.
Good News Anyone?
Firefighter helps a Virginia Beach Music celebrity
Have you ever visited the Virginia Beach oceanfront during one of their Beach Music events? If so, chances are you've seen or met Travis Thereault! You will usually find him announcing the bands, helping with equipment or hanging out backstage. Travis is a local celebrity and friends to all of the Beach Music bands. A local firefighter heard that Travis' bike was stolen and he jumped into action. You can watch the heartwarming news segment on our website. We were so happy to finally hear good news for once in the past few weeks.

FFL Launches Online Station
Flip Flop Live Radio
On Thursday March 19, 2020, Andy Lucy and Jonathan "JJ" Sharpe announced the newest addition to the FFL platform, Flip Flop Live Radio. We've been planning to launch an online station for some time but we ushered in the idea several months early with the launch of a new website and radio show. Currently Andy Lucy is hosting a weekly show every Saturday from 7:00-11:00PM called the "Saturday Night House Party" which is an all request show playing a wide array of genres. For more information you can visit: www.FlipFlopLiveRadio.com Last weekend we also debuted the "Flip Flop Live Radio Show" on WEVA 860AM in Emporia, Virginia. A twenty-four hour format is planned with several featured shows in the works. Thank you to everyone for your support and join us on Saturday evening where you can text your requests and join our live chat!

Johnny Draper Blasts into Saturday Nights
Host of the weekly show "Friday Beach Blast", Johnny Draper launches a new show on Saturday on 107.7 FM The Lake based out of South Hill, Virginia. His Friday night show can also be heard on 107.7 along with WTRG 97.9FM, EARL 98.3FM based out of Weldon, North Carolina. Johnny plays a great mix of music including a weekly tribute to Charlie Byrd who was host of "The Charlie Byrd Beach Blast". Congratulations Johnny!

Highway 17 with Ben Morris
Beach Shag Rhythm and Blues Radio
On April 20, 2020, Beach Shag Rhythm and Blues Radio announced the addition to their current lineup as they announced "Highway 17 with Ben Morris. Loving music from an early age, Ben talks about when he was around seven years old, "I was taken back by the sounds of those old Brunswick labeled records and I was hooked on the R&B music sounds." Also he recalls "my Mom singing to Far Away Places, Washed Ashore and other songs that eventually woke me up to Beach Music.


SHAG NEWS

Society of Stranders Make Tough Call
SOS Spring Safari Canceled
The ACSC/SOS Board members made a tough decision to cancel SOS Spring Safari due to the coronavirus. Nobody likes to cancel or reschedule events and surely an event like SOS that impacts so many, it makes the decisions even harder. In their release it stated: "it is our responsibility for your safety and well-being, as we are an older group and it seems to affect our group the most. Your understanding of the situation will help us get through this." They are talking about planning for an expanded Fall Migration in which we hope the Covid-19 situation will not be of any concern.
Online Shag Lessons
Sam and Lisa West
In an attempt to bring some normalcy to the shag community, Sam and Lisa West offered online shag lessons and we think that's a great idea! After their first lesson the response was so positive they've decided to continue the classes on Sundays and Thursdays and includes; Music and Warm-up, Beginner Class, Music and Break followed by an Intermediate Class. They also started a "Virtual SOS" on YouTube for $75.00 for a single and $100.00 for a couple/household. Visit their website or Facebook page for details and you can find those links on our website news feed.

HAPPENING AT FLIP FLOP LIVE
Flip Flop Live Tests New Feature
We're getting closer to the launch of a brand new feature for Flip Flop Live. We've been working on this feature for several months and we're now in the final testing stages before our official launch. We hope to release more details in the next couple of weeks on the official announcement.

Lake Life / Salt Life…..does it matter? Give us water and Beach Music!
Lake Life Live and Flip Flop Live are teaming up for something special and we plan on bringing you this announcement this weekend or at least by early next week. Stay tuned!



WE NEED YOUR SUBMISSIONS
Bands, DJ's, Shag Clubs, Venues, Radio
We have lists organizing the various aspects of the industry by category. Now is the perfect time to make sure your organization is listed on our website and make sure we have the correct details and links. If your band, club, venue, station or organization is hosting a beach/shag event, send us the details to: events@flipfloplive.com The industry is made up of so many aspects within the Beach Music community and we want your information included and all details to be listed correctly. You can also join the members in the "Flip Flop Live Shaggers" group on Facebook. Share your information, events, photos and anything else you'd like once we get back to normal.

THANK YOU!
Thank you to Skelton Speed Shop in Brodnax, Virginia, Hite's Clothing in Clarksville, Virginia, Brian Parks with Virginia Farm Bureau of Boydton, Virginia, Butch Halpin and the Carolina Sounds Beach Show, John Hall from Johnny's Jukebox, Scott Walker from the Thursday Night Beach Therapy and Townsend Link from the Beach Bound and Down Radio Show. They're all sponsors of Flip Flop Live and we can't thank them enough for enabling us to take our platforms even further.

Also to the following: Sunset Sounds Concert Series, Lake Life Live Concert Series, ECSC Fall Breeze, Cabin Fever Throwdown, Hope Abounds East Coast Shag Classic, Julian B. Fowler and the We Be Jammin' Concert Series for allowing us to partner with you on the promotion of your events.


Submit your news!
We work hard finding the latest and most up to date information pertaining to the Beach Music industry. If you have anything that you feel our visitors would find interesting or if you have an upcoming announcement etc, we want to know about it. If you have something you'd like to include, you can contact us on our website or send an email to: webmaster@flipfloplive.com

We have one goal at Flip Flop Live and that's to be your one stop destination for EVERYTHING Beach Music. Our platform is not focused on one artist, band, venue, station, shag club or DJ, we're here to promote Beach Music in its entirety. We've built our website around the "community" and the only way we will be able to grow is with your input, suggestions, and submissions. Thank you for the emails we currently receive and we look forward to growing with all of you.

Do you know someone that would like to receive our emails? Forward this to them and
they can also sign up at: www.flipfloplive.com


Andy and Jonathan "JJ"
Your Flip Flop Live Team!